Shark Challenge! – "Not for the faint of heart!"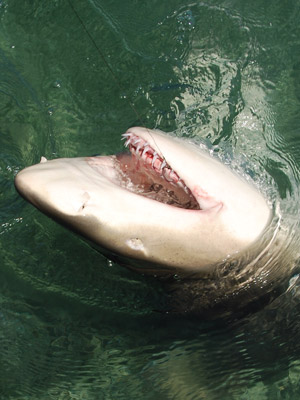 Key West has been long revered as one of the absolute best places to fish for sharks, big ones. Key West was thrust to the national spotlight with the award winning, incredibly successful MadFin Shark Series and countless other national television programs.
Our Shark Challenge trips are without a doubt one of the most exciting ways to meet up with one of nature's top predators. Bulls, Lemons, Hammerheads, and Black tips are in great abundance in the shallow waters very close to Key West. Most of these sharks average 6ft to 8ft long, some nearing 10ft., all of these monsters are pure excitement when hooked up. When targeting sharks, we typically use spinning, conventional and fly equipment, all matched to the size of the sharks to make a great fight. It usually takes no longer than a few minutes to have them surrounding the boat. Many of the areas that we fish are well protected from waves and are gin clear.
Where we go…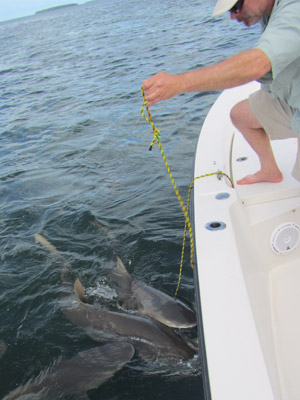 We target sharks in the beautiful backcountry of the Florida Keys. There are hundreds of square miles of prime, fishable shark waters. We like water less than 4 or 5 feet deep and very clear. We look for moving water where a flat might be draining into a channel or basins that provide great ambush points. We use Power-poles to hold us stationary and sight cast to them as they cruise up the chum slicks to the boat. More times than not, you actually pick the one you want with so many around the boat. In the shallows sharks naturally feed on Barracuda, Stingrays, schools of Mullet or small fish for food. Most often, customers are amazed at how big a shark will be for only a few feet of water.
The Bait…
Sharks can at times be very picky eaters. They definitely prefer fresh, not frozen, bloody or oily fish. Freezer burnt bait or day old carcasses will only draw in pinfish or Nurse Sharks, rotten bait will actually keep the sharks away. Getting fresh bait can sometimes be a problem for other guides, not us. The Pro Guides team has more than a dozen light tackle boats that keep us well stocked with fresh shark bait each day. We brine the baits to keep them fresh and bloody. This not only gives you more shark fishing time, but really fires them up when the bloody brine hits the water. We set up these slicks to draw them off of the flats and close to the boat. As the slicks start to draw them in, they become very active and start to aggressively feed on the surface. This is when your heart starts pumping and you can expect them to crash your bait any second!
The Fight and release…
A typical fight can last 20 minutes to more than an hour. Many times we have to bring the Power-pole up and chase after the sharks. Because they are in shallow water, you get to see them run, jump, twist and bolt across the shallow water. By using equipment matched to the sizes of the sharks we are targeting, you don't get tired because of a heavy rod and reel. The lighter equipment is more sporting and makes for a better experience. We always use circle or thin wire hooks, releasing the shark unharmed is always top priority. All of the sharks we catch are strictly catch and release; only photos are taken.
Shark Trips – 24Ft. Bay Boats (Yellowfin, Pathfinder, Skeeter)
Backcountry Boats 1 to 4 Guests
1/2 Day $700 (4 hours)
5/8 Day $750 (5 hours)
3/4 Day $850 (6 hours)
Full Day $1100 (8 hours)
Full Day Marquesas Trip $1200 (8 hours)
Our Faithful & Generous Sponsors