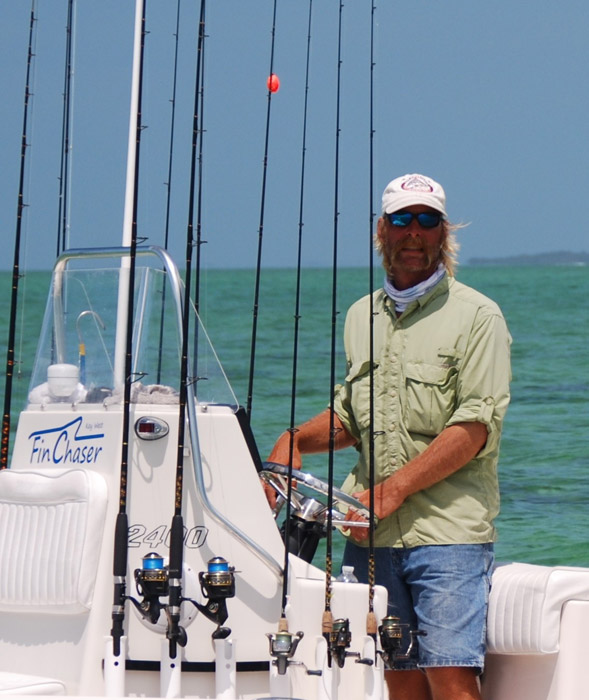 Captain Dave Brucker is an angler's angler. From early childhood in Washington State, Dave was on the water every possible minute. As a fresh water fisherman young Dave became an expert on Steelhead and Salmon. Making the decision to fish in the tropic's Captain Dave found himself in Key West in 2000. Since that date Captain Dave has worked very hard to hone his considerable fishing talents while becoming a well-known and respected professional guide specializing in the fabled shallow waters of the backcountry and on the flats pursuing some of the most elusive sport fish on the planet.
With an inquisitive nature and a penchant for perfection Captain Dave offers his guests an insightful fishing experience with a serious emphasis on teaching and the sharing of his limitless knowledge with the first time novice angler to veteran pro. Today Captain Dave enjoys a following by anglers from around the world who return year after year to once again target the super aggressive behemoths of the back country. A Tarpon and Shark specialist Captain Dave is a first call "Night Tarpon" guide here in Key West.
Captain Dave Brucker arrived in Key West in 2000 with a strong fishing background and a desire to make his living as a light tackle guide. The next day he was on the water and underway building an exceptional guiding career. Although Captain Dave paid his dues becoming proficient offshore he found his passion in the shallows. Drawing on his vast experience angling for Salmon and Steelhead as a child in Washington State Captain Dave possessed the insight to shallow fishing techniques that applied in saltwater as well.
Fishing the technical flats was an instant obsession for Captain Dave. Pursuing the most elusive of flats species such as the Bonefish, Permit and the awe inspiring Tarpon was just the challenge he had been seeking. Captain Dave is at home in the "skinny waters" of Key West.
Twelve years later, Captain Dave is considered one of the top pro guides in flats & backcountry fishing on the island. With thousands of productive charters and satisfied guests to his credit Captain Dave continues to patiently share his insights and knowledge with novice to seasoned anglers as they fish together on the most beautiful waters on the planet.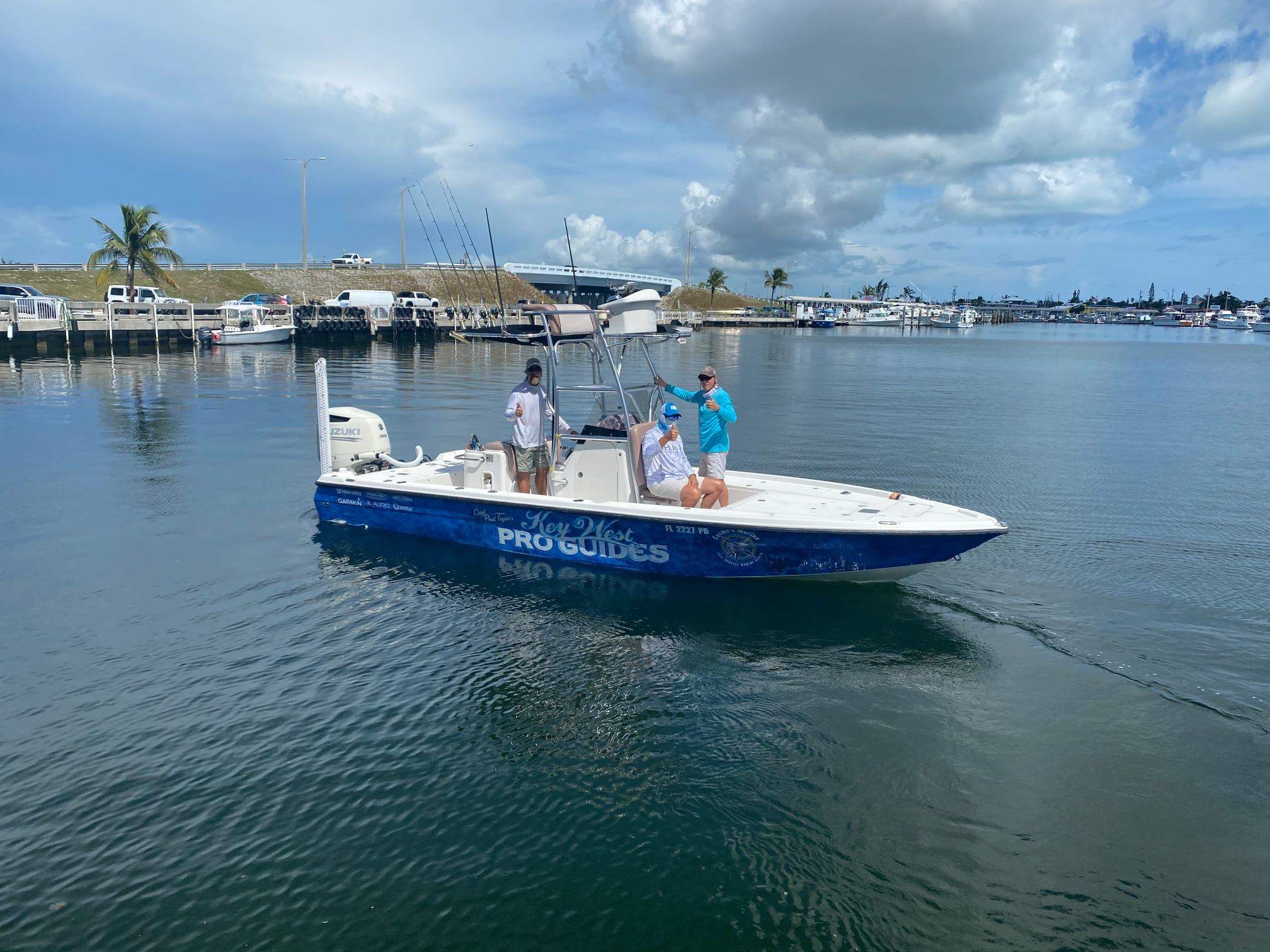 26ft. Century Tournament with 300hp Suzuki 4-Stroke

Garmin 1242xsv w/ CHIRP sonar

JL Audio premium sound system

Fully Enclosed Marine Head

Calm, shallow water – No Seasickness!

Comfortably fishes up to 4 Anglers
Great day on the water with Capt. Dave Brucker
Great Experience! Key West Pro Guides is one of the best fishing charters Key West has to offer!

My family and I went out with Capt. Dave for 5 hours and caught more fish than we knew what to do with in our day of fishing. As a family of inexperienced fisherman, it was great that Capt. Dave was able to accommodate for our lack of skill and teach us Fishing 101 in such an action packed trip. After the trip, the restaurant at the docks cooked up the fish we caught and the fish tasted delicious!

Thank you Dan! I would definitely recommend Key West Pro Guides to anyone in the Key West area!
Key West Pro Guides is the way to go!
I can't say enough about my wonderful experience with Key West Pro Guides on June 16th!! I spoke with Capt. Roc about setting up a backcountry fishing trip for myself and my son, who is only 5 years old (almost 6). Scheduling was easy and handled as if we had all been friends for years!! We arrived and met Capt. Dave Brucker at the marina. Capt. Dave was very personable and had everything ready for us. He took us out and within minutes my son had hooked his first fish, a snapper!! Capt. Dave worked very well with my son showing him what to do. This was the first of many fish we caught on our trip! I can't say enough about Capt. Dave's patience and professionalism in working with my son! He showed us new techniques and we caught a variety of fish including barracuda, porgy, grunt, snapper and toad fish. Back at the marina Capt. Dave cleaned our snappers and we had it cooked for lunch! This fishing trip was the highlight of our Key West visit and my son keeps asking when we can go fishing on Capt. Dave's boat again!! I would recommend Capt. Dave and Key West Pro Guides to anyone interested.
Don't pass up the chance to fish with Captain Dave Brucker
Two friends and I booked a back-country trip with Key West Pro Guides for an afternoon trip about 3 weeks ago (late June 2015) and were booked with Capt. Dave. I called him the night before and let him know that we decided we were more interested in filling the cooler than tarpon or bonefish. Capt. Dave took it from there and adjusted our plan from backcountry to reef fishing. I know, not the most sporting or technical, which is his expertise, but we caught our limit of yellowtail and mangrove snapper. Took it back to the marina and they cooked it for us there…Great Experience.
Tarpon fishing
My husband Jim and I went Tarpon fishing with Capt. Dave Brucker. Capt. Dave was awesome, he was personal, professional and put serious effort into putting us on the fish. Capt. Roc of Key West Pro Guides arranged the trip. This trip was one on my husbands "Bucket List" and Capt. Dave made it happen, BIG TIME!!! One nurse shark 1 Jack Crevalle, and 2 Tarpon later Jim could scratch that one off the list. We plan to travel again and fish again with Capt. Dave I would recommend Key West Pro Guides to anyone looking for honest and honorable tour guides not to mention the Great fishing! Sue L
Awesome Experience with KWPG!
On our way down to the keys, my family and I decided last minute that we wanted to go on a fishing charter. Capt. Roc was extremely helpful and very accommodating in setting us up the next day with Capt. Dave Brucker. We have been on plenty of fishing charters in the keys before and Captain Brucker was by far the best we have ever had. What blew us away the most was the amount of knowledge Captain Dave displayed. He knew so much about the area and taught us everything we needed to know in order to maximize our catch and even gave us tips we can take with us to make our future fishing experiences better. He hooked us up on our first casts with all of the fish we wanted and even gave suggestions for which seasoning he liked best back at the restaurant at the marina. On any future trips to the keys we will certainly be calling Capt. Roc and Key West Pro Guides.
An Absolutely Amazing Experience!!
We had our regional sales meeting in Key West and booked 3 charters for a half day of Key West fishing. Three of us were on Capt. Dave Brucker's boat. Starting off, we caught a few small fish here and there. But Capt. Dave's expertise kicked in. He took us trolling along the backside of the island and literally every cast we were hooking grouper and yellow jacks! Each of us had some great challenges reeling these 8 to 10 pounders in! Just an incredible fishing experience from beginning to end. They made it easy from booking the trip to eating the fish we caught! Thank you gentlemen! We'll be back as soon as possible!!!
Our Faithful & Generous Sponsors