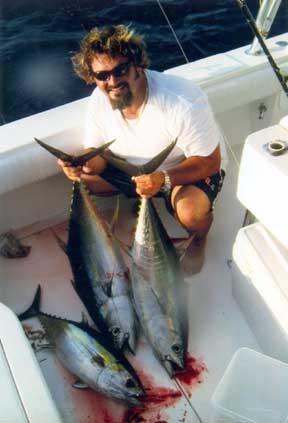 Captain Tyson Veach is the third brother of the much-respected Veach fishing family. Along with Captain's Chip & Ryan, Captain Tyson has been fishing the waters of Key West for more than twenty years as a professional guide. Captain Tyson has long been considered the go to source, when it comes to experience, he is always happy to talk fishing and loves sharing his many stories about his many experiences on the water.
Captain Tyson is a well-rounded guide, equally at home with all the species of fish and angling techniques of the reef and wrecks or far offshore and blue water. From Blackfin Tuna to Sailfish, Snapper to Grouper, Permit to Cobia, specialist Captain Tyson is renowned for productive BIG FISH fishing. Capt. Tyson is that generation of guide that knows hard work, patience and reading the conditions make for a great day on the water.
Captain Tyson runs the "Super Grouper III" a beautiful 27′ Conch light tackle center console boat. Fully equipped with top-of-the-line fishing gear and electronics this vessel will get Captain Tyson and his anglers to the most productive fishing areas comfortably and quickly. Friendly, patient and always jovial Captain Tyson makes a priority of keeping it fun on the water for the expert or the novice angler.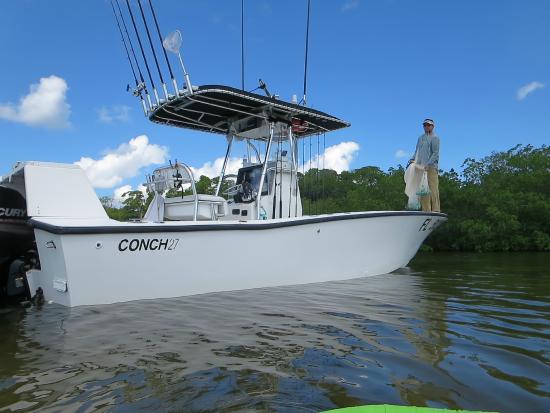 Custom Conch 27 w/ twin 300hp. Yamaha 4-strokes

Simrad NSO EVO3S Chartplotter/Fishfinder

X-Large Coffin Box

120qt. Console Cooler

100gal. livewell

Large T-Top for shade

Plenty of Room for 4 anglers

500lb Fish Chill Box

Side Bolster cushions
Two days of amazing fishing!
While preparing for my third guided fishing trip in Key West, I learned that my 'go-to' guide service had ceased operations. I began searching for a replacement guide service and after spending multiple hours reading Trip Advisor reviews, sorting through fishing discussion groups, reading blogs, etc., I became convinced that I wanted to fish with Key West Pro Guides. I called their office and a gregarious gent named Capt. Roc answered the phone and filled me in on everything that I needed to know about their outfit. He immediately followed up our call with an email that outlined our conversation and layed-out the specifics of the two days of fishing that I scheduled (dates and times, type of fishing, name of captains, style and size of boat, name of vessel, price, what to bring, cancellation policy, name and location of marina, etc.).

My group of four arrived at the marina for our first day of fishing a bit earlier than scheduled (we were raring to go!) and I figured that we'd be standing around a while as the final preps for the boat were made. Nope! We quickly found Capt. Tyson (hard to miss, he's gotta be 6′ 2″ or better and looks like he'd be the winner of a hand-to-fin match up against a bull shark), who had the boat and gear fully set, and we immediately departed the dock. Capt. Tyson confirmed with us the species that we wanted to chase and we headed out to fill our live well with bait and then anchored off of a sunken submarine. Chum bag was placed in the water and our lines went in. Less than two minutes later, we had our first fish on!

The fight lasted a minute or two (a non-targeted bonita was the first fish to come up), but it came with a HUGE surprise… a giant bull shark followed the bonita all the way to the surface. Seeing the massive bull slowly glide by was very impressive and quite beautiful.

Not too long later, I hooked up with what we believe was a blackfin tuna. The fight was fun while it lasted, but Mr. Bull Shark was hungry and took my fish. That was the theme at the wreck- we traded fish with the sharks. It was the old game of "one for us, then one for them, then one for us, then one for them, etc." However, we did manage to get several fish past the sharks and into the boat.

One of our anglers was floating a bunker at the surface in the chum slick and was slowly letting line out by hand. We saw a disturbance a couple hundred feet behind the boat and then WHACK! A sailfish took the bunker and the drag on the reel started to scream as the sail headed towards Cuba. Capt. Tyson ordered "Lines up!" and all 6' 2"+ of him started sprinting around the boat to get us on the chase- we quickly tied the anchor line to a buoy, started the engines, and went after the sailfish. It was a great fight with lots of aerials! There were several boats anchored at the sub, but ours was the center of attention as the sailfish put on its show. After a thrilling fight, Capt. Tyson touched the leader (making the catch official) and released the sail to grow bigger and come back for another fight on a future day.

We left the sub and headed to a reef to target yellowtail snapper. We had constant action and quickly took enough fish for many, many meals.

Back at the dock, our group sat down at the marina's restaurant and had a tremendous meal as Capt. Tyson filleted our catch. It was a great day and left us looking forward to our scheduled backcountry trip the following morning.
Great fishing adventure in a gorgeous location!
Captain Tyson definitely knows his business! His "how to catch a fish" spill at the beginning is a bit brief, so pay attention! While he's not the chatty type, he knows where the fish are and how to catch them. The seas were pretty rough due to a stiff wind on our booked day so Captain Tyson gave us the option of the following day. While the wind had fallen off a little, our party considered it pretty rough, especially since most of our group of 5 were not seasoned fishermen. When you check in with your captain the night before you might inquire about wind conditions. If you are inclined to have motion sickness, you may want to take medication. We rolled around the entire trip but it was great fun! All of us got a bit wet as well but that is to be expected when the seas are high. We should have taken waterproof gear in hindsight. Captain Tyson expertly handled the boat and worked very hard keeping the lines baited and the fish coming in. We were not star pupils but with nonstop action we caught our limit of yellow tailed snapper and then had time to try for some mackerel. Captain Tyson cleaned some of our catch for us and delivered them to our outside dining table along the dock. The restaurant proceeded to cook them for us, the best fish we had ever eaten! We booked the reef/wreck fishing for 3/4 day and that was exactly the time we needed. Although our fish size was not exceptionally large, they pulled quite well and gave us the right amount of challenge for our capabilities. We would definitely use Key West Pros again!
Awesome
My son and I went offshore on 8/4 with KWPG and inshore on 8/5. Both were great. Went with Tyson offshore, really bad seas but hooked all the yellow tail snapper we could handle (my hand hurt after doing this for few hours) and a couple sharks. Went with David inshore the next day and caught a lot of snapper, grouper, and a beautiful tarpon – almost got him the boat but I called it a catch 🙂 These are two of the nicest and best captains I've ever had…they never stopped working the bait, chum, and know the waters/tide/fish very well. I can't wait to go back for tarpon season!
Mahi Mahi for the win!
Captain Tyson gave us a great day of fishing for Mahi Mahi. His "run & gun" style of fishing made for a day of excitement, never waiting too long in one spot. We got on two big schools of Dolphin and we had several fish on, and they all ended up in the boat. For you girls, be warned that there aren't any facilities onboard, and the shade is limited. But for our 3/4 day trip, neither was a problem, as the weather was just perfect. We brought home 12 fish total, and Tyson cleaned and filleted them all for us.
Yellowtail extravaganza
After a nasty weather week, things finally calmed down enough to get out on the reef. We didn't have advance reservations so we were super lucky to get out on a charter with Captain Tyson Veach. From the time we called Captain Roc- (a wealth of information and humor) to the time we walked to our car after the trip, Key West Pro Guides was great to work with. Tyson kept our lines baited and with his expert advice, we had fish on virtually every cast. We will be back again and would highly recommend these true pros for your keys fishing experience! Go fishing!
Best part of our vacation
I set up this charter for an early Christmas gift. I looked into other charters but was most impressed with the personal service and friendly staff and great reviews. We went out with Captain Tyson and he was awesome! He was really honest and informative about the weather conditions and what we could expect with the wind being a factor.

We caught our limit of yellow tail snapper (a blast to catch!) and then to top it off we went looking for shark since there was still time left. I liked that he tried to make every moment memorable.

My boyfriend is an experienced fisherman but I'm the opposite. Capt. Tyson took time and explained everything with patience. I never felt stupid or annoying asking questions and I learned ALOT!

Thank you so much and we will be calling next time we are down your way.
Amazing experience!
From the first point of contact to walking away with a cooler full of fresh tuna fillets, there wasn't a single point in time during the entire process that I was left asking questions or unsatisfied. Captain Roc handled the reservations and was great over the phone and Captain Tyson put us straight on the fish and we maxed out our storage space in just 2 hours. At that point he gave us full discretion as to our next move and made the trip easy. We appreciate the high quality service they provided and will definitely be using them again soon!
Our Faithful & Generous Sponsors