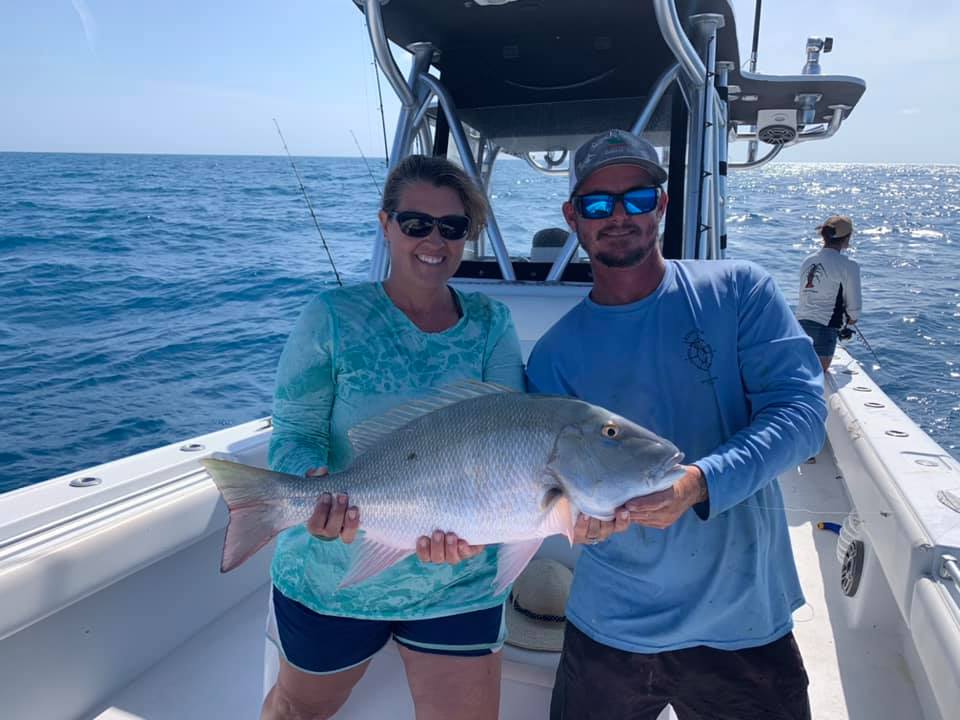 Captain Evan Tingley and his immaculate 34' Andros are poised and ready to head offshore to the most remote and isolated "blue water" fishing grounds Key West has to offer the angler. With experience on our local waters stemming from his early childhood through years of Commercial fishing to nearly a decade of professional guiding today Captain Evan has developed an amazingly successful record of "banner days" and notable "big fish" catches
Captain Evan is a rare breed of professional guide that doesn't depend upon maps and charters as do most Key West guides. When aboard, the angler needs to be prepared for a potentially long distance run out before fishing…as Captain Evan armed with "handed down from father to son" knowledge, typically motors right past the well-known near shore fishing locations that often times appear as boat parking lots on the reef. These types of highly pressured, well known shallow wreck sites cannot begin to compare to one of Captain Evan's private "honey holes" that supports massive populations of quality fish.
Captain Evan is the first guide to the marina in the early morning and the last to leave in the late evening…as a consummate professional his level of preparedness and attention to detail is commendable. With his wonderful communication and comforting people skills you will instantly feel a confidence in Captain Evan's dedication to providing you with the ultimate fishing experience.
Equally at home pursuing "bill fish" and pelagic species or reef and wreck dwellers Captain Evan brings home successful and happy anglers…certainly not your "cookie cutter" offshore guide, Captain Evan will astonish even the most hard-core veteran angler to the first-time novice with his commitment to your time on the water together.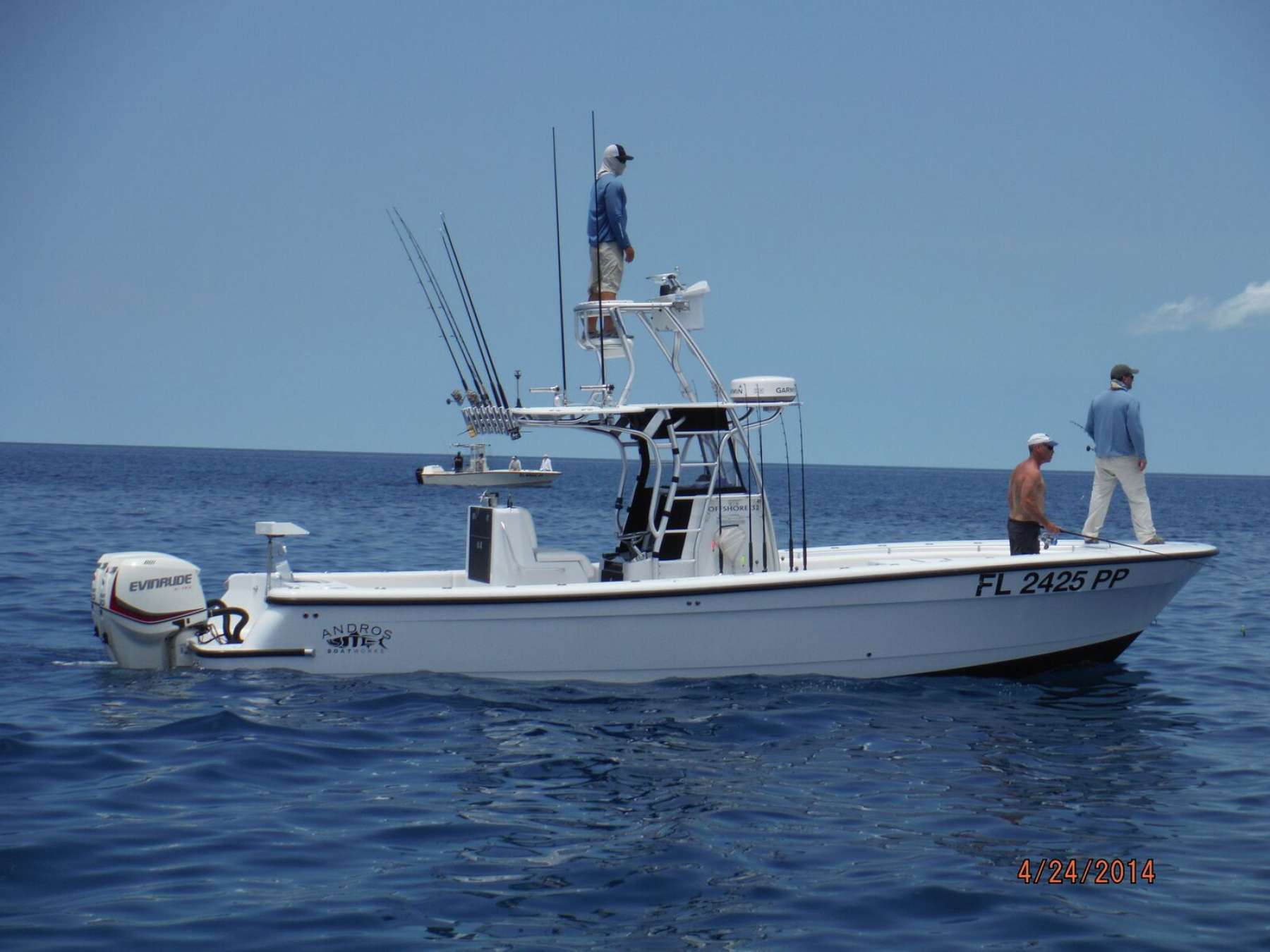 Custom 34' Andros w/ twin Yamaha 300hp. 4-strokes

Simrad NSO EVO3S Chartplotter/Fishfinder

Plenty of Room for 4 anglers

Live Well Capacity – 80 gal.
Top notch guide!
We found Capt. Even through Key West Pro Guides and we were BLOWN AWAY! We had very low expectations for the day as it was windy and rainy. Capt. Evan assured us that the area he planned on taking us was both dry and calm…. He was spot on! After a short and wonderful ride to the Gulf of Mexico, Capt. Evan had us on more fish than we had ever hoped to catch. Snappers, Groupers, Mackerels, Sharks, Barracudas, Cobia and even a surprise Jewfish! We kept a few for lunch at the marina restaurant, it was spectacular. Will definitely do again and highly recommend!!

Pete and Pam
Tons of Fun
The family and I enjoyed a great day with Capt. Evan. Stepping on the boat, we knew we were put with our kind of guide. Being a huge deer hunter, we talked the whole trip about his place in Georgia and mine just west in Alabama. Wait, this review is about the fishing, haha. We had a blast! Capt. Evan knows his art and it showed. All I wanted was big fish in deep water. Capt. Evan had the plan. We caught Black Grouper, Amberjack, Tile fish and even a few "True Reds" Snapper. We looked for dolphin, but only found a few small ones, it was early in the season I guess. My buddy and I thoroughly enjoyed the trip and promised Capt. Evan we would be back. Special thanks to Capt. Paul with Key West Pro Guides for setting this up, Capt. Evan was Fintastic!
A Catching trip!!
From lines in to lines out, we were on fish. Capt. Evan was super polite and very accommodating to all of us. Capt. Evan was ready at the dock with a load of fresh bait and had a sound game plan for us. We fish Key West each year and this trip our guide decided to cancel on us, the night before the trip. (Obviously not using him again). We did a quick search online and Capt. Roc just also had a last minute cancellation, it was Capt. Evan. Sometimes fate works for the right reasons. Anyway we went for Dolphin and loaded the boat! At one point we were only catching and releasing, how much dolphin can a family eat? Lots of fish, Lots of catching, Lots of fun! Thanks Capt. Evan
Awesome day on the "Fintastic"!!
The day started slow, but Captain Evan had us on the fish the last couple of hours and we wrapped up with a cooler full of fish and a nice Black Grouper to bring home. Great experience with Key West Pro Guides. Fastest response time from the beginning to a follow up when over to make sure we were happy with our trip. We plan to return next summer and fish with Evan again. Highly recommend!!
Great day with Capt. Evan
Capt. Evan was perfect. He has a great personality and knows how to fish. He always had a funny story to tell and always kept us busy catching fish! His boat is wonderful, he had great equipment and seemed to really enjoy what he does. Many thanks to Key West Pro Guides for recommending him to be our guide. It was my wife's first fishing trip and she loves telling her friends how much fun it was. We will be back!!!
Our Faithful & Generous Sponsors