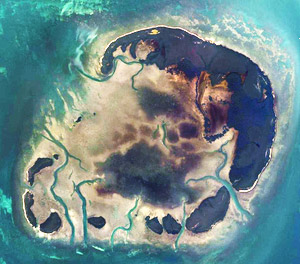 The Marquesas Keys are legendary as a world class light tackle fishing destination. Located approximately 20 miles west of Key West just beyond the Boca Grande Channel, the Marquesas Keys are 36 miles east of the Dry Tortugas, which is the farthest key traveling west, in the entire Florida Keys chain.
The fabled 4 mile wide center lagoon is named Mooney Harbor. With water depths, ranging from 1′ to 5′ on average the harbor offers exceptional flats and shallow water angling for Tarpon, Permit and Bonefish among other elusive species. During the Tarpon spawning migration from March through July the harbor and channels are home to a vast population of "Silver Kings". During the winter months, the harbor holds massive populations of large Barracuda and Sharks.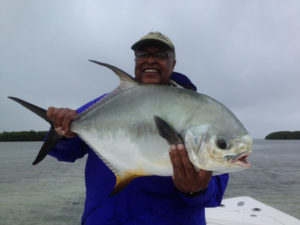 The northernmost key is the largest and is has a small sandy beach free of mangroves. It is often referred to as Entrance Key. This island or "key" surrounds the lagoon to the north and east sides. Smaller adjoining keys to the south are Gull Key, Mooney Harbor Key and about 4 unnamed keys in the southwest corner of the islands. From older maps, some of these keys were once referred to as Button Key and Round Island. The channels that flow in and out of the harbor are well known for their large shark populations including the super aggressive Bull Shark and Key West's apex predator, the Hammerhead Shark.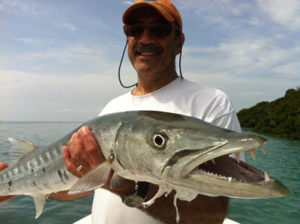 One of the most unique characteristics of the Marquesas, are the numerous shipwrecks surrounding the islands. Until as recent as the 1980's, the U.S. Navy used these shipwrecks as bombing targets. There are more than 7 large target wrecks close to the islands in about 12′ of water, and a few more that are secret :). These wrecks hold large schools of Permit, Barracuda, Yellow Jacks, Cobia, Snappers, Grouper, Sharks, and lots of smaller fish. On the outside of the Marquesas Keys, there plentiful coral heads and ledges that hold massive populations of Permit, Barracuda, Snapper and Grouper at times. Live bait fishing in this area can be extremely productive.
Because of its remote location, Marquesas Keys charters are offered as full day only trips. However, it is this isolation which causes the fishing grounds to receive very little fishing pressure in general. Many days anglers may find they are alone in the Marquesas. Weather must always be a consideration when planning a trip to the remote Marquesas Keys. On days where weather and/or water conditions do not allow safe passage to the Marquesas you will enjoy fishing closer to Key West at our normal charter rates at the captain's discretion.
Marquesas Trips – 24Ft. Bay Boats (Yellowfin, Pathfinder, Skeeter)
Backcountry Boats 1 to 4 Guests
Full Day Marquesas Trip $1200 (8 hours)
Our Faithful & Generous Sponsors