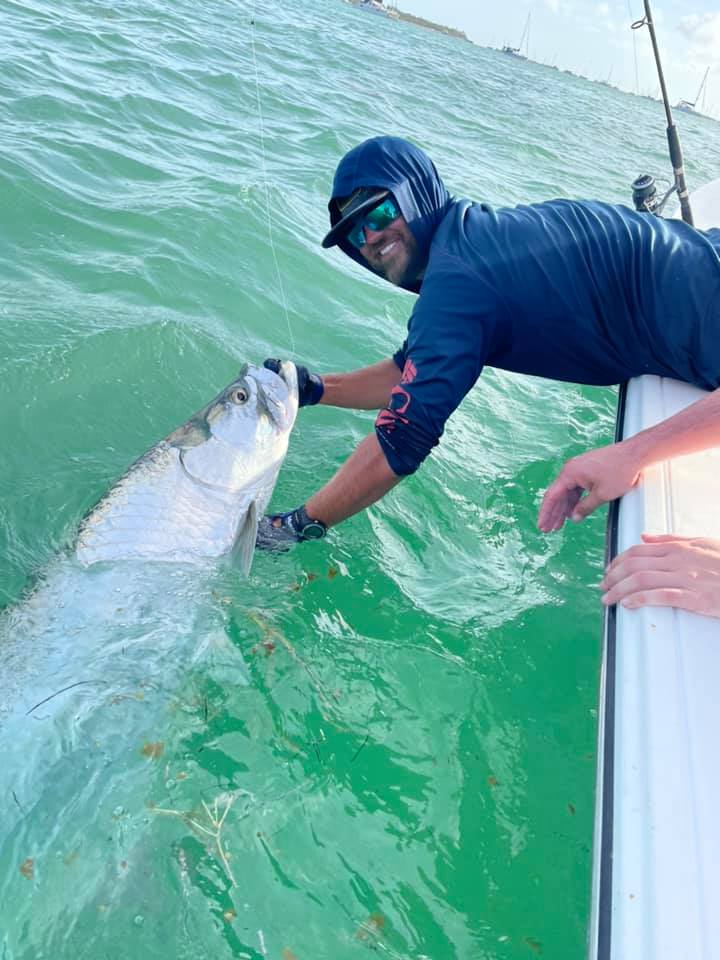 Captain David Lamb is at the top of the list of the next generation of professional guides in Key West. Like all of our guides, Captain David's Trip Advisor reviews are stellar…
David was born and raised on the water in Miami, Florida where under the guidance of both his renowned father & uncle learned the skills and techniques of both freshwater and saltwater angling at the highest level.
Captain David was quickly as comfortable in the Everglades pursuing freshwater species as being far offshore in the blue targeting sport fish and big game pelagic species. Captain Dave as quickly rose to the top in Key West fishing circles as a very productive back country guide with countless notable catches to his credit. From simple Snapper fishing to Tarpon Captain David is well versed and has a contagious energy to put fish in the boat. Stemming from a wonderful work ethic and genuine commitment to his angler's success, combined with an easy-going personality perfect for the seasoned veteran or the family of novices, Captain David quickly rose through the ranks to be one of our most requested captains today.
For a pleasurable day in the Mangroves, or in the Marquesas, with fun at the heart of your experience, you will certainly enjoy your time on the water with our Captain David. As a valued member of our elite guide team rest assured you will be the number one priority during a Captain David Lamb charter.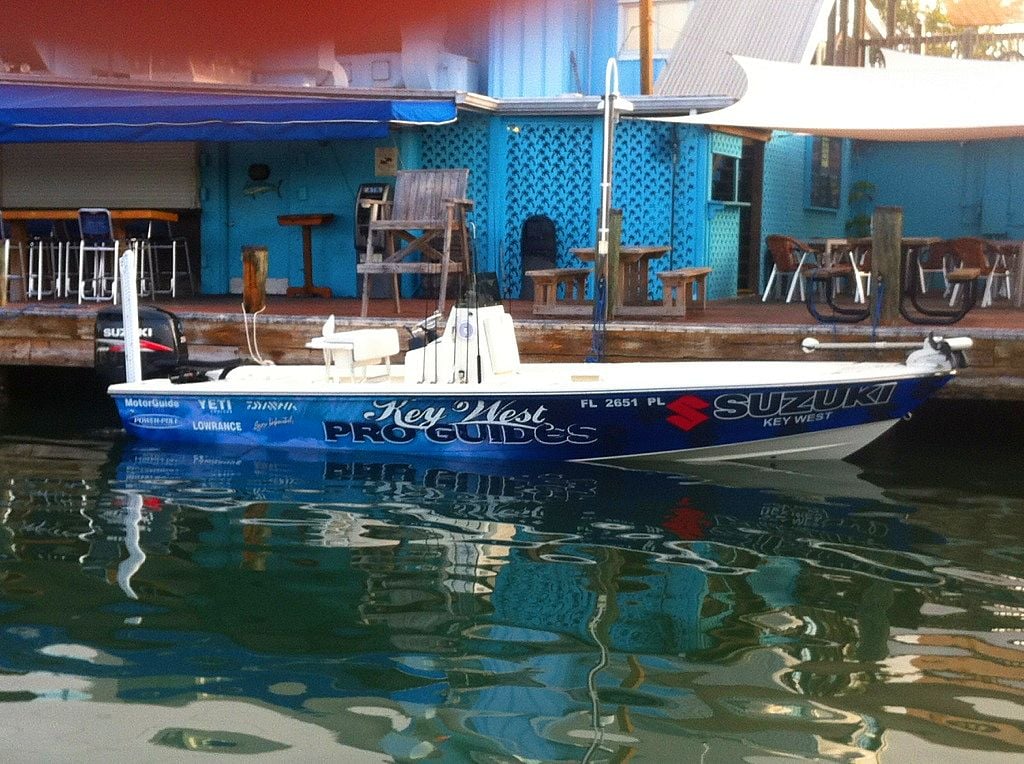 24ft. Pathfinder Tournament with 250hp Suzuki 4-Stroke

Garmin 1242xsv w/ CHIRP sonar

JL Audio premium sound system

Calm, shallow water – No Seasickness!

Comfortably fishes up to 4 Anglers
Amazing Experience
This was a last minute booking on my part. We were flying out of Minneapolis Wednesday morning and I emailed Monday night. Captain Roc was extremely quick to respond. We got it booked, and we are so glad it worked out. We met David Lamb at the marina Thursday morning for our half day trip. The first thing you notice is he looks young. But don't let it fool you, David is a very mature and personable young man who really enjoys what he does. My girlfriend and I had a great time on the water. We even had a double half way through the morning where we both hooked into a fish at the same time. Every spot we checked had action. David taught us about the different species of fish and places we fished. We say a ray jump completely out of the water and he pointed out an iguana in a tree when we were coming back in. To top everything off, David cleaned our fish at the end and we had the bar cook them up and we had a spectacular lunch with a couple drinks. It was a perfect way to reflect on the day and soak it all in. In summary, the experience exceeded my expectations from start to finish and I can't say enough about the whole thing. We'll definitely be back.
Fish Filled Charter with Capt. David
While my wife had her nails done she inquired about a charter boat that could take us out fishing. She spoke with Shannon who connected us to David Lamb with ProGuides at Hurricane Hole. We were calling with short notice and ProGuides was able to accommodate us. The reservation process was smooth and seamless. Captain David was great at accommodating us going out a little bit earlier to get an early jump on the fish and he had tremendous amounts of knowledge of the area. His boat was perfect size for our group and everything was very clean and organized. We quickly picked up live bait that he had traps for then he put us on Yellow-jacks very quickly. We then decided to try lobstering and luckily with his knowledge of different locations, at the final location we were able to find a few lobsters as well. He gave great instruction and I will be sure to book with Captain David again when we are back in the Keys. Upon arrival back to the dock he cleaned all the fish and lobster tails for us so we could take home to cook. Overall a great time out on the water and would highly recommend David to others looking for a professional and knowledgeable guide.
A day with Capt. David Lamb
I can't say enough good things about our day. Capt. David was knowledgeable, extremely personable and knew a lot about fishing. We headed out for 1/2 day of fishing on 12/28. Dave took us to two amazing spots where we killed it with mangrove snappers. After catching enough for dinner, we hit the lemon shark spot. Dave threw some bait in and we saw gigantic sharks within minutes. Dave rigged up a rod and we had a shark on it no time. My son's face was priceless as he reeled him in. On the way back, he told us it was the best day of his life. I can't top that review. Thanks Captain Dave!
Exactly what we wanted and more
I can't say enough about this guide service!!!

From the original contact until eating snapper at the marina, everything was a wonderful experience.

Captain Roc, took the time at onset to listen to what our group wanted and planned the perfect outing. Captain David executed the plan wonderfully. The day before the trip, Captain Dave called me to confirm details and had us set from the get go. Once on board Captain Dave provided great service and showed us exactly what to do. He put us right on top of the species we were looking for.

I've already recommended Key West Pro Guides to a friend that will be visiting in September.
He had us catching and not just fishing!
No stress! This was my first charter. Capt. David Lamb took care of everything. Key West pro guides were very flexible we ran into bad weather and they got us rescheduled before we had to go home.

My wife caught the first fish! We were on our honeymoon. It took us 4 years and was worth the wait! He put us on fish the entire trip.

Capt. David Lamb was great. Love the boat and sound system. Riding to his different spots was almost as much fun as fishing!
Highly recommend!
Fantastic Fishing with Key West Pro Guides
We recently spent two days fishing with Key West Pro Guides, and neither day disappointed! The first day we fished with Captain Kody in the big waters and it was non-stop action all day. Kody had us on big tuna, amberjack, barracuda, yellowtail snapper, etc. all day despite the big winds and rough seas. Day two was fishing the back country with Captain Ryan and Captain David. They had us on Cobia all day including a 40 pound monster. All of the guides were very professional and fun to be with on the water all day. I would hands down recommend them to anyone looking for a great fishing trip with a bunch of great guys. Thank you Key West Pro Guides!
Our Faithful & Generous Sponsors