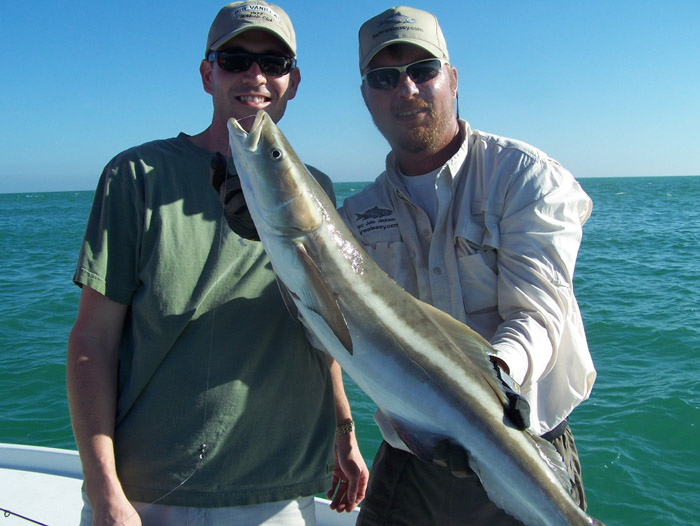 Hi there, my name is Capt. John Jackson, let me tell you a little about myself and my experiences fishing the waters of Key West.
I feel lucky to have grown up in the Florida keys, the son of a commercial fisherman, I spent many days and nights exploring the many wonders that the lower keys has to offer. Raised on Sugarloaf key which is located between Key West and Big Pine Key. Sugarloaf was a magical place chalked full of adventures. As a young boy my summers and weekends were spent on the water fishing, diving, and exploring the many islands, channels, creeks, and waterways which make up what is known as the back-country. With my younger brother (James), we would search for new and better places to fish and dive always bringing home fish or lobster for mother to cook. As I became older I began to broaden my explorations and was soon fishing and diving the reef which was another magical place full of different wonders and fascinating creatures. As a young man I held many commercial licenses and spent the majority of my time fishing and diving for lobster. In the late 80's I created reel easy charters and have been sharing my knowledge and experience with others. Its a special feeling to call the lower keys home, this diverse Eco-system has and will forever be a magical place to me. Come join me for an incredible adventure on the water aboard the Reel Easy!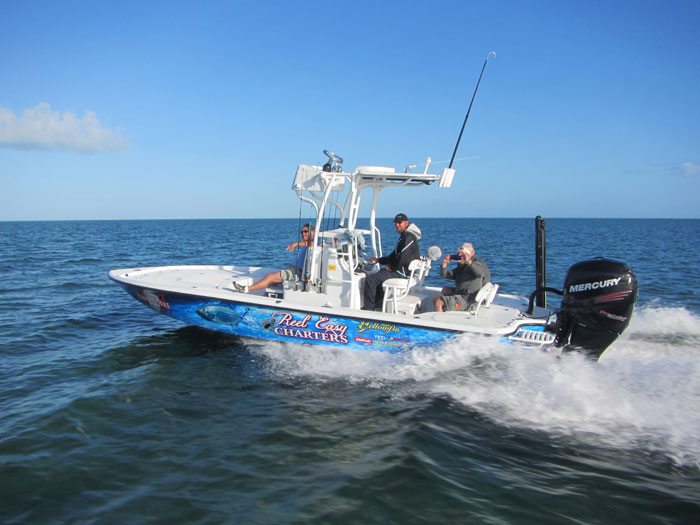 26ft. Barker with 350hp Mercury Verado 4-Stroke

Garmin 1242xsv w/SideVü, ClearVü and Traditional Sonar

JL Audio premium sound system

Calm, shallow water – No Seasickness!
Professional and Efficient
Capt. John Jackson took my two younger brothers and me out for a morning trip and it was better than expected. We left the dock at 7am sharp, lines in the water by 7:30, tarpon landed by 8, and the action continued all day. We caught tarpon, jacks, sharks, and snapper, back at the dock around 11am and home for lunch. John was absolutely professional and knew his stuff. We fished the 24 Yellowfin. The boat was just as exciting as the fishing. These guys use the best of the best equipment too. The booking process was very easy and Capt Roc was available at all hours to answer our questions. Would highly recommend this outfit and Capt. John in particular. Great guys.
Best Capt. Anywhere!
Capt. John Jackson ALWAYS catches fish and is NOT A JERK!! He is always friendly, engaging, and helpful. He works hard to make sure your fishing adventure is fun and action packed. I have fished with John about 8 times over the last 10 years and will continue to! His boats have always been state of the art, comfortable and fast. Go with John – you will NOT be disappointed! Calm water and tight lines!
A great afternoon with Captain John Jackson
My wife and I spent the afternoon with Captain John Jackson. We did a little bit of everything over our six hour trip, including reef and wreck, to get a variety of action and different Florida fishing experiences. We caught grouper, yellowtail, tarpon and a couple different types of sharks. John found us some nice tarpon and helped us land a couple, including one that was between 5 and 6 feet in length and around 75 pounds. Captain John was very helpful in giving us tips as we explored different areas and searched for different types of fish, and very patient with us as saltwater fishing was new to both of us. We had a great afternoon with Captain John.
Fabulous Experience!
I setup a day of fishing with John and he delivered. John is an easy going guy with a fun loving personality. And he knows his fishing! It was late February and I asked him if we could try for Tarpon despite being early in the season! Well, we found them! Caught 5, jumped 9! All by 1 pm! I highly recommend John for an incredible day of fishing in Key West!
Fishing
My friend and I went out with John Jackson for our guide. He did a great job finding the fish and sharks for us to catch. He wasn't afraid to move spots if the action slowed down which I like. I've been on many charters and always trying to fish everywhere I go. John was enjoyable to hang out with for the day and had top of the line and clean equipment. I would highly recommend. Thanks JJ
Excellent experience again
This is the second year I went to Key West to fish with these guys and another excellent experience again from booking to fishing. They made it easy, I told him what I wanted to catch and we caught it. I caught Tarpon, Permit, Mahi, Black fin tuna, Cobia, Barracuda, jacks and sharks. (I'll add a few picks of the more notable catches.) I recommend backcountry fishing with Capt. John Jackson and offshore fishing with Capt. Brad Nowicki. Don't waste your time or hard earned money with another guide service. I researched every guide I could find online and made several phone calls prior to choosing Key West pro guides last year. I'll save you the work, just call them.
Fishing in Key West
I have been fishing for over 20 years several times a year in Key West. I understand all of the species, when they run and how to fish for them. My son is 11 and has been fishing with me on many of those trips since he has been 5. Captain John Jackson has taught my son everything from the first cast, to his most recent accomplishment of Master Angler. He has taught him about patience, conservation of fish populations and protecting our environment. He has help create a stronger relationship between father and son. There is no more knowledgeable captain in the keys.
Our Faithful & Generous Sponsors