Captain Paul Tryon has been a recognized top professional guide in Key West for twenty years plus. Captain Paul is an elite International Game Fish Association (I.G.F.A.) Certified Captain and member of the prestigious Florida Guides Association, The National Charter Boat Operators Association, The Coastal Conservation Association, The Snook Foundation and has worked closely with the Tarpon and Bonefish tagging programs in concert with the Florida Wildlife Commission among other fine organizations while fishing the waters of Key West and beyond.
Captain Paul has been featured on ESPN, ESPN 2, and HBO Sports. Captain Paul has fished with many visiting celebrities over the years such as NASCAR Winston Cup Champion Tony "Smoke" Stewart, Curt and Trevor Goudy of "The American Sportsman" and the more recent "Out There" fame respectfully while appearing regularly on the Island Angler radio show broadcast on the Clear Channel Network. Captain Paul is deeply involved with our returning military veterans and the Make-A-Wish Foundation.
Captain Paul is a third generation Key West Captain. His family legacy comes from commercial fishing and a line of shipwrights. These artisans were premier boat builders and many of these wooden vessels remain on the waters of Key West today. Captain Paul's passion for fishing began at an early age when spending countless hours offshore at the side of his father and uncles. So taken with the beauty and rawness of nature at sea Captain Paul has dedicated his entire adult life to fishing. It is far more than just an occupation for Captain Paul, it is a way of life.
This commitment to professional sport fishing at the highest levels is evident in every aspect of Captain Paul's charters. His list of notable catches is nearly endless. However, Captain Paul is most happy while guiding his guests on their "fish of a lifetime" adventures. Captain Paul has successfully led thousands of anglers to trophy catches, some to world records over the years, and yet his enthusiasm for teaching and sharing his vast knowledge springs eternal with seasoned veterans to the novice angler. Captain Paul is a consummate professional with the personal goal of "total satisfaction" for every guest.
Currently Captain Paul has turned his attention to the pristine waters of the backcountry challenging Tarpon, Permit, Redfish, Cobia and the ever-present predators the Giant Barracuda and Sharks. While fishing from his state of the art Pathfinder "TailChaser" Captain Paul patrols the waters from Key West to the distant Marquesas Keys in search of shallow water action. For the ultimate backcountry experience, you are invited to fish with Captain Paul Tryon…owner and founder of Key West Pro Guides.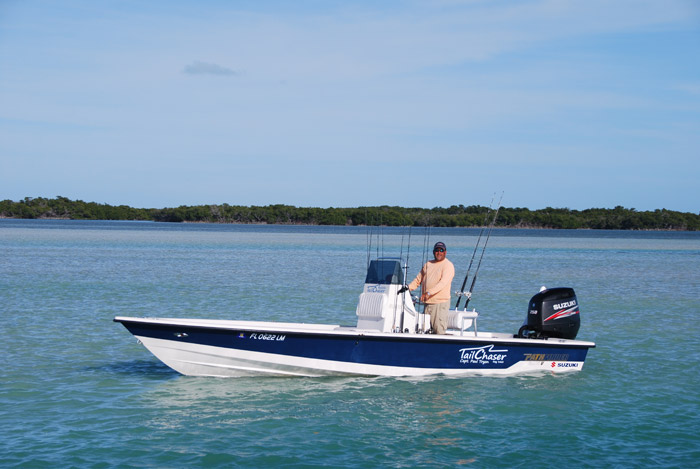 24ft. PathFinder Tournament with 250hp Suzuki 4-Stroke

Calm, shallow water – No Seasickness!

Comfortably fishes up to 4 Anglers

Bait, tackle, license, bottled water & ice supplied

Bring only drinks, snacks, sunscreen, polarized sunglasses, & camera

Ladies & children welcome
TO MY FAVORITE CAPTAIN PAUL:
WE ARE REDECORATING OUR LIVING ROOM AND JUST FINISHED HANGING UP OUR TARPON MOUNTS FROM MY FAVORITE NIGHT OF FISHING EVER WHICH MADE ME THINK OF YOU. HOPE ALL IS WELL WITH YOU AND KELLY! MISS YOU GUYS & THAT WARM KEY WEST SUN…SOAK UP SOME RAYS FOR ME! CAN'T WAIT TO GET BACK DOWN THERE-NEW JERSEY SUCKS!

CHRISTINE
PS-CRAIG SAYS HI!
Dear Paul,
Ann and I would like to thank you for the great fishing trips on April 24 and 26. The yellowtail snapper fishing on day one was a perfect way to start Ann off on her first fishing trip. Fishing the tower for permit on day two was awesome. The tower bite was really on hooking 19 permit and releasing 12 of them. The large Goliath grouper was a bonus. Thanks for everything and can't wait to fish with you next spring! Tight lines
Ann Lewis & Scott Hufford
Capt. Paul, We arrived back in Toronto and have more than a foot of snow on the ground, my car was covered in snow and the power is out in the house, work stinks, I can't even think about working right now, god we miss you and Key West! Marcy and I had an absolute blast fishing with you on your tailchaser! (still love the name) what a relaxing day. I still can't believe the stamina of those permits. We can't wait to see the mount when it gets up here, I bet no one knows what it is! Hopefully we will be able to get back down in '07 I will send the pictures when I get them back from the store, good luck, send some sun this way if you can, bye
Josh & Marcy Cohen
Hello Paul,
I would like to say we enjoyed our trips out and we would like to thank you for an excellent 2 days fishing with you. Now were back in the UK and we are freezing our @#$%^&*'s off so we have decided to book another vacation 1 week in Disney land and 2 weeks in key west at the same hotel (first 2 weeks in January) so we would appreciate if you would please take us out again over the 2 weeks but on several more occasions this time. All the best and god bless (TIGHTLINES)
Robert, Kirsty, Carl & Elliot
Our Faithful & Generous Sponsors